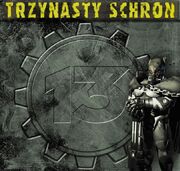 Konkurs "13 - Epilog" to konkurs zorganizowany na stronie Trzynasty Schron. Fundatorami nagród byli wydawnictwo War Book, Insignis Media i członkowie redakcji. Rozpoczął się 1 lipca 2012 roku, a zakończył 13 września. To drugi już konkurs nawiązujący do uniwersum 13, tym razem mający miejsce już po premierze.
Zasady konkursu
[
]
Zadanie konkursowe zostało opisane w ten sposób:
"Dopisz zakończenie trzynastego rozdziału pierwszej części Projektu '13' - pierwszego polskiego uniwersum postapokaliptycznego (przy czym słowo 'dopisz' należy rozumieć bardziej jako 'wykreuj', gdyż w konkursie mogą brać udział prace nie tylko stricte literackie - w dowolnej formie - ale także komiksy czy inne historie obrazkowe)"
Nagrody:
[
]
książka "Do światła" autorstwa Andrieja Diakowa,
książka "Piter" autorstwa Szymuna Wroczka,
książka "Gambit" autorstwa Michała Cholewy,
Z racji nierozstrzygnięcia konkursu wszystkie nagrody przeszły na konto konkursu "W obiektywie"
Zakończenie
[
]
Konkurs okazał się kompletnym niewypałem. Ze względu na zerową frekwencję, zwycięzca nie został wyłoniony, a nagrody przeszły do puli następnego konkursu, jakim jest Konkurs 13 - W obiektywie.