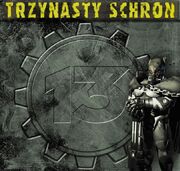 Konkurs "13 - W obiektywie" to konkurs zorganizowany na stronie Trzynasty Schron. Fundatorami nagród są wydawnictwa War Book, Insignis Media i członkowie redakcji. Rozpoczął się 30 września 2012 roku, a zakończy 26 listopada. To trzeci już konkurs nawiązujący do uniwersum 13 rozpoczęty niedługo po Konkursie "13 - Epilog", który okazał się nie wypalić.
Zasady konkursu
[
]
Zadanie konkursowe zostało opisane w ten sposób:
"Wykonaj zdjęcie w klimatach postapo w dowolnym miejscu (lub jego okolicach) wspomnianym w literackiej części Projektu '13'."
Nagrody:
[
]
książka "Do światła" autorstwa Andrieja Diakowa,
książka "Piter" autorstwa Szymuna Wroczka,
książka "Gambit" autorstwa Michała Cholewy,
pula nagród może ulec zwiększeniu.
włączenie zdjęć do graficznej warstwy projektu "13"
Zakończenie
[
]
Zwycięzcami zostali Opus, Gregorigo i Marek Dryjer. Ich zdjęcia zostały udostępnione na Schronowej Picasie.