Gdyby mieć zapas pożywienia dla nich, to można z nich zrobić użytek. Są ślepe i głuche, napędza je tylko żądza jedzenia. Najłatwiejszy sposób, by to zabić, to rozerwać. Nie wyrywać, rozerwać. Gorzej, gdy jest ich więcej. Bez pełnego pancerza naprawdę łatwo można zostać skonsumowanym w całości. Niezbyt miła perspektywa, prawda?
| | |
| --- | --- |
| Wysokość: | kilka-kilkaset cm |
| Szerokość: | 15-150 cm |
| Długość: | 15-150 cm |
| Waga: | 0,5-kilkadziesiąt kilogramów |
| Nastawienie: | wrogie |
| Występowanie: | zachód i centrum Polskich Pustkowi, szczególnie Lubuskie i Łódzkie |
| Zagrożenie (0-5): | 4 |
| Cechy szczególne: | wygląda jak kawałek mięsa, elastyczny |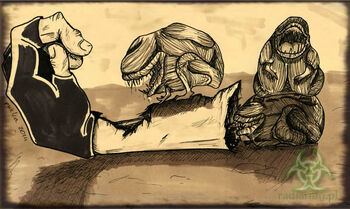 Mięsy są małe, ale śmiertelnie groźne. Uzbrojone w szereg małych ząbków, które jednak z łatwością przebijają skórę. Pod otworem gębowym mają małe rączki i nóżki, które trudno dostrzec. Wyglądają zupełnie jak kawałki mięsa, stąd nazwa. Mięsy mają bardzo dobry kamuflaż, czasem można te małe mutanty znaleźć przy zwłokach, nieważne, czy ludzkich, czy zwierzęcych. Nie są inteligentne, zależy im tylko na zdobyciu pokarmu. Najedzone są niegroźne.
Mutanci posłużyli się nimi, najeżdżając Łódź.
Pojawiają się w opowiadaniach 13 i Bez celu oraz grze Radiation, ale zostały też wspomniane w Zimie.
Pomysł na nie powstał, gdy Wrathu popatrzył na kawałek mięsa drobiowego leżącego na stole.