Autor:
Stlaker
Data premiery:
13 maja 2012
Bohaterowie:

Jacek

Tomek

Miejsce akcji:

Pruszków

Czas akcji:
2049 rok
Ograniczenie wiekowe: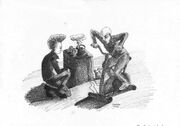 Osiedle Postapokalipsa to pierwsze opowiadanie autorstwa Stlakera, które ujrzało światło dzienne. Jest o dwóch jegomościach (dresiarz Jacek i punk Tomek), którzy prowadzą bardzo zwyczajne życie w bardzo dziwnych czasach.

Osiedle Postapokalipsa to tylko zalążek prawdziwego artykułu. Jeśli możesz <insert name here>, rozbuduj go.