| | |
| --- | --- |
| Wysokość: | kilkadziesiąt cm |
| Waga: | kilka kg |
| Nastawienie: | wrogie |
| Występowanie: | pustynie, mokradła |
| Zagrożenie (0-5): | 2 |
| Szacowana populacja: | kilkaset tysięcy |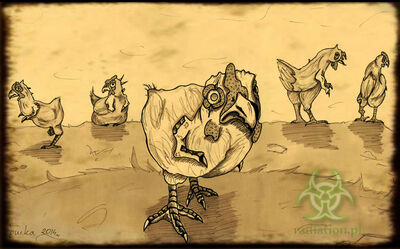 Skurczybyki
to radioaktywne kurczaki. Występują jedynie w grze
Radiation
.
Taa, ktoś miał pierońskie poczucie humoru, gdy nazywał tego pokracznego stwora. W sumie za opis starczy ci wiedzieć, że Skurczybyk to po prostu połączenie wściekłego kurczaka z jakimś wrednym mutagenem. Szalony naukowiec, który stworzył tego mutanta musiał być naprawdę szalony. Podobno to miało być rozwiązanie problemu głodu na świecie. Nie uważasz za zabawne, że to nasze jedzenie pożera nas? Nie? A, niech tam. Tymi stworzeniami nie kieruje absolutnie nic poza instynktem stadnym i żądzą krwi. Nie stanowią zbytniego zagrożenia, chyba, że zdołają powalić przeciwnika na ziemię i połamać mu kości twardymi jak kamień dziobami. Występują w dużych grupach nawet do stu osobników.
Podróżnik
Community content is available under
CC-BY-SA
unless otherwise noted.